I love Cape Town (Kaapstad). Truly, this entire article can be summed up with the following quote, attributed to world-explorer Sir Francis Drake when he visited the Cape (circa 1580):
"This Cape is the most stately thing and the fairest Cape we saw in the whole circumference of the earth."
This is no exaggeration. I've visited some of the most beautiful cities on earth, but Cape Town and the Cape remain incomparable.
Join me to learn why there's something for every traveler to love and enjoy here, and discover even more great reasons to visit Cape Town yourself. 
 Note: We natives refer to Cape Town and the surrounding area (sometimes the Western Cape Province, too) as "the Cape."
We also call the city die Moederstad ("the Mother City"), but this lady is not only maternal and welcoming. She's also mysterious, exciting, a bit dangerous, and always drop-dead, mind-bogglingly gorgeous, as you'll discover! In this article, I will give you some basic tourist tips and discuss a few favorite personal haunts. Lastly, I'll touch on the overly touristy spots that those looking for something different could probably avoid.
Welcome to the city of my heart!
Sonsondergang oor ikoniese Tafelberg, Kaapstad
("Sunset over iconic Table Mountain, Cape Town")
Table of Contents
A Quick Cape Town Travel Guide
First, a few fast facts and travel tips to get the journey started.
History / Geskiedenis
In the early fifteenth century, the first Western visitors to the southernmost coast of Africa were from Portugal: Bartholomew Dias and, later, Vasco Da Gama.
Cape Town was founded over a century later on April 7, 1652. This is the date when Jan Van Riebeeck, a colonial administrator from Holland, took over the proto-port from Autshumao. Autshumao was the leader of the Khoi group who had been supplying passing ships with meat and fresh water for decades. The Dutch intended for the Cape to be a supply station for ships en route to or from the East. This was called the "Spice Route."
The indigenous Khoi people gave the Cape its very first name: "Hoerikwagga," which means "mountain in the sea." They called the Cape Peninsula (the southernmost part of Cape Town) '||Hui ! Gais.' This toponym means "where clouds gather."
Other names include "Cape of Storms" (allegedly what Dias called it) and "Cape of Good Hope" (apparently the name later bestowed by Portugal's King John II, because its discovery was a good omen to him.)
Different theories are circulating as to why Cape Town is called the Mother City. The most popular explanation is that it's the oldest city in South Africa, and therefore the "mother" of all cities in the region. 
Clouds often did (and still do) gather like a blanket over Cape Town's most iconic landmark: Tafelberg, or "Table Mountain." It was the Portuguese explorer António de Saldanha who baptized it Taboa da caba ("Table of the Cape").
Simon Van Der Stel later took over from Van Riebeeck as governor of the Cape. He had grape vines brought from Europe and founded the region's wine industry.
Ou kaart van Afrika met kompas
("Old map of Africa with compass")
Language / Taal
English is the most spoken, but second language of most Capetonians. The majority of the city's population speaks either Afrikaans or Xhosa as their first language. Most locals will easily understand you if you address them in English, but to really connect, be sure to master some Afrikaans.
Climate / Klimaat
Someone asked the other day about the best time to visit Cape Town. I replied that any time is perfect. Really, it is! The city is a unique experience and primary destination for globetrotters, irrespective of the season. 
Cape Town's climate is Mediterranean, so you can expect relatively mild and pleasant weather throughout the year. It gets somewhat wet and stormy during the winter months of June through September, but if you don't like weather extremes, you'll love Cape Town's generally temperate climate.
Summer in Cape Town (October through February) tends to be dry with the occasional very hot day, but the humidity remains pleasantly low. From spring through midsummer, a very strong, dry wind sometimes blows from the Southeast. This wind is often referred to as the Kaapse dokter ("Cape doctor"), as it's said to clean away all pollution and dust, thus "healing" the city's atmosphere.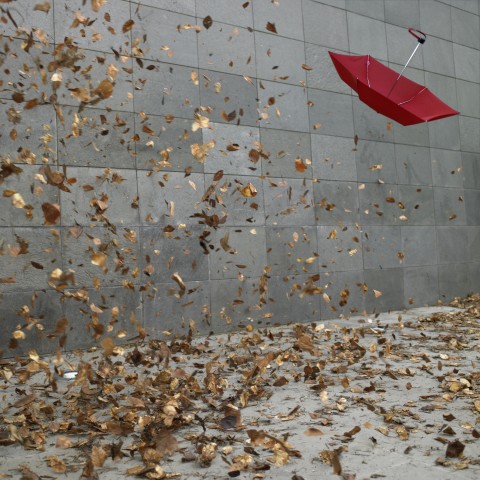 Sambreel en herfsblare in die wind
("Umbrella and autumn leaves in the wind")
To avoid the wind, March through May are the best months. For a pleasant summer visit, the best months would be October through February, which is the traditional tourist season.
What to Wear / Wat Om Te Dra
Like London in the U.K., Cape Town can experience the proverbial "four seasons in one day," especially during fall and spring (April-May and September-October respectively). So, it's a good idea to pack for layered dressing. Swimmers and surfers, keep in mind that the ocean water temperatures range between 13 °C (55 °F) and 17 °C (63 °F).
Also, bring your camera as a primary accessory! A smartphone camera won't do justice to this ridiculously photogenic city.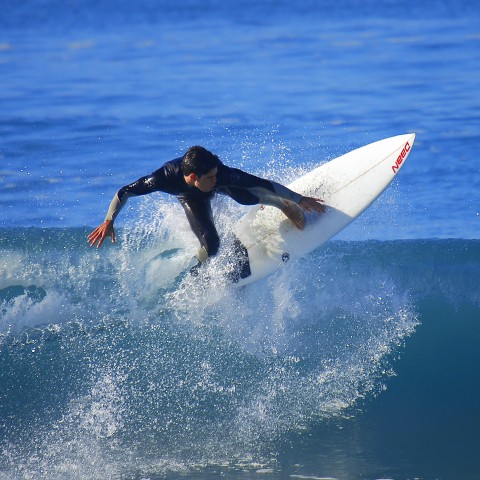 Branderplankryer in die golwe
("Surfer in the waves")
Currency & Ways to Pay / Geldeenheid en Betaalwyses
The ZAR, or "Rand," is South Africa's currency. Most retailers accept credit and debit cards, and EFTs are often accepted too. However, you should still keep cash handy in your wallet for visits to the city's famous flea markets, and for service tips.
Public Transport, Rental Cars & Tour Buses / Publieke Vervoer, Huurmotors en Toerbusse
If your holiday goal is to sightsee and explore, having your own vehicle is almost mandatory. We have several rental car and rental scooter companies, of which the bigger, international brands offer the best service. South Africans drive on the left side of the road in right-hand-drive cars. GPS is generally very reliable, so it's easy to personalize your travel routes.
The signature-red, City Sightseeing hop-on, hop-off tour buses are a good option for exploring the main attractions of the city. These open-top buses offer different types of tours at very reasonable prices. Although they run only during the tourist season, they are popular for good reason, so book your trips ahead.
'n Toeris op 'n rooi City Sightseeing bus
("Tourist on a City Sightseeing bus")
The city's public transport network comprises local bus services, trains, and taxi minibuses. However, using public transport is probably more for the young and adventurous! If it's your only option, that's fine. But in that case, be extra-vigilant about your personal safety and that of your possessions, and try not to use it alone.
My CitiBus is the city's comfortable and modern bus service, originally conceived to handle the increased transportation needs of the 2010 Fifa Soccer Cup that we hosted. Several buses run on numerous routes and connect with the other transport services. Download the CitiBus app onto your phone for easy access to route schedules.
The private car-taxi services, including the likes of Uber, are generally great alternatives.
Safety Tips / Veiligheidswenke
Some sites (and expats!) will have you believe that Cape Town is one of the most dangerous places on earth—and yes, crime statistics are high. However, criminal activities tend to be concentrated in certain areas and the majority of travelers are untouched by them. No different than most other first-world cities. 
That said, taking precautions is always wise, so keep the following tips at the forefront of your mind wherever you find yourself: 
Keep your valuables locked up wherever you stay. 
When shopping or sightseeing, remain vigilant and keep your cellphone and wallet hidden on your person. 
Unless you're young and built like a wrestler, don't venture out on foot and alone after dark, especially in the CBD.
Always enter the poorer areas only with a resident.
When withdrawing cash at an ATM, never ask for or accept help from anyone other than a bank staff member.
If you're alone, avoid using any public buses, trains, and minibus taxis after sunset. Only use these as part of a group of three or more. Singles and couples would be better off using a car taxi service such as Uber.
Here are some crime hot spots to avoid.
Plugs, Etc.
The country's standard voltage is 230 V and the standard frequency is 50 Hz. Bringing a standard travel adapter is advisable.
Now, let's dig into why every travel-lover should visit Cape Town at least once in their lives!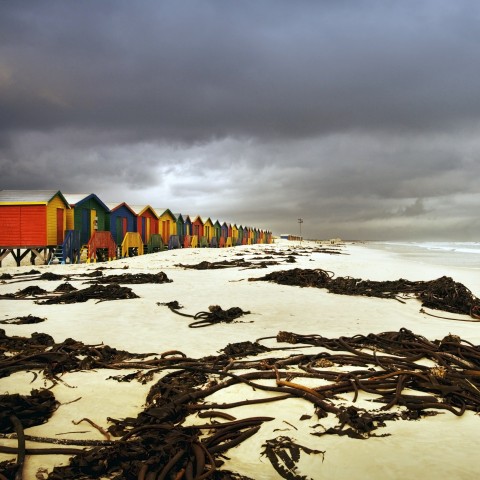 Aantrek-hutte op Muizenberg Strand, Kaapstad
("Changing cubicles on Muizenberg Beach, Cape Town")
Cape Town Travel Guide
She's not a quick study, Cape Town. It would be best to visit for a month or longer, or to decide beforehand on specific tourist activities if you plan on a shorter stay (two weeks or less). 
Everybody loves and needs food, though, so let's start with eateries.
A. "EATING OUT" / UITEET
Foodies and visitors usually find the city's food scene to be extremely alive (and themselves thoroughly spoilt for choice). Cape Town is called the Culinary Capital of South Africa, as it boasts the most winners of prestigious local and international awards! The following restaurants in Cape Town have been tried and tested, and have some of the best offerings in the city. However, this list is far from exhaustive. If food is your focus, Cape Town is the place to visit!
A.1 Fine Dining
Fine dining is expensive and bookings are usually mandatory. That said, our fine dineries tend to be much cheaper than in other world-cities! In Dubai, for instance, you could easily pay between four to seven times the amount you would pay for a comparable meal in Cape Town.
The following restaurants offer unforgettable culinary experiences:
Probably the most prestigious eatery in the city, The Test Kitchen (or TTK) doesn't sport a conventional luxury look. But trust me—the unconventional aesthetics and equally unique cuisine will simply blow your mind. The restaurant and its owner/chef, Luke Dale-Roberts, have raked in several prestigious excellence awards over the past decade. 
Award-winning La Colombe is another must-visit fine dinery. Situated in the breathtakingly beautiful Constantia wine estate, this understated eatery elicits rave reviews for its eclectic cuisine and excellent service. It's an unforgettable experience that some prefer over that of the TTK.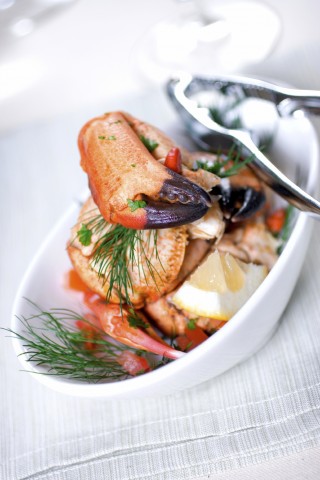 Crab dish, seafood
A.2 Family and Other / Gesin en Ander
Cape Town also has a large number of less expensive and more inclusive, but equally enchanting, restaurants. 
One of the best-kept secrets in town is probably an Italian restaurant called Magica Roma. Hidden in the corner of the Town Square in Pinelands, this laidback and unpretentious restaurant serves simply the best Italian food in the city, if not the province. And it's all dished up with a large dollop of warm Italian hospitality—patrons tend to spend hours here! Magica Roma is insanely popular, so bookings are essential.
Want to take the family out for lunch in a beautiful setting? You'll be hard-pressed to find a more perfect spot than the Blue Water Café on Imhoff's Farm near Kommetjie. Take your freshly prepared meal (from organic, local produce) outside to enjoy spectacular views of the valley.
South Africans are "java-philes" of note; we city-dwellers practically run on caffeine! No surprise then that Cape Town sports one of the world's most wonderful coffee shops: the renowned Truth Coffee Roastery. Photographers alert—the gorgeous steampunk interior is a visual feast!
'n Barista in die Truth Coffee Roastery, Kaapstad
("Barista in the Truth Coffee Roastery, Cape Town")
A.3 Wine Farms / Wynplase
South Africa is an old and internationally renowned producer of top wines. So, naturally, many of our wines have won prestigious excellence awards over the past century. Wine connoisseurs are undoubtedly familiar with the Western Cape Province wine route, a worthy experience to be had outside of Cape Town.
However, the most established wine farms are situated right within the city. Many of them feature restaurants and wine tasting venues in stunning natural surrounds—a wonderful way to spend an afternoon with friends. Spoil yourself with a visit to the completely breathtaking Groot Constantia, the oldest wine-producing estate in the country. Another place worth visiting is Steenberg Wine Farm. Steenberg also features a five-star hotel and a golf course for an all-round luxury experience.
Many tourists opt for an organized wine-tasting tour, even though it's tough to single out the best tasting rooms. Our wine is popular for good reasons.
Now that the tummies and taste buds have been seen to, let's investigate some ways to spend your Cape Town holiday.
B. OUTSIDE IN NATURE / BUITE IN DIE NATUUR
Numb with jetlag? Start your stay with a refreshing walk!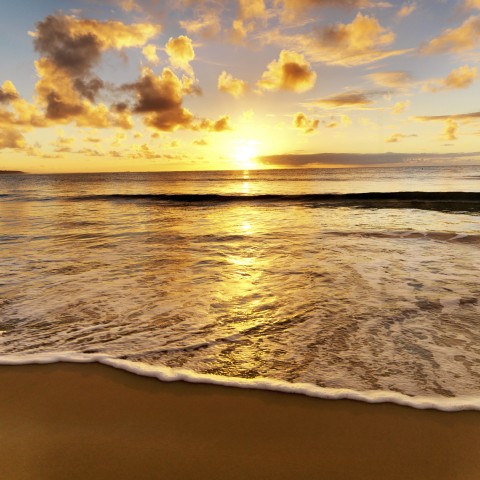 BEACH, SHALLOW WATER, SUNSET
B.1 Beaches / Strande
Cape Town beaches are generally excellent for strolling or jogging. The stunning Clifton and Camps Bay beaches are close to the CBD and are popular spots for locals, too. 
Swimming is allowed at most beaches, but the water tends to be cold and sometimes there are sharks. Attacks are extremely uncommon in our oceans, but if you cannot tolerate the thought of taking the chance, Fish Hoek is a family-friendly beach with restaurants and shark nets. To surf in the waves or simply splash in a tidal pool, the most popular beaches are Muizenberg and Glencairn. St. James is another picturesque swimming beach, complete with changing rooms.
B.2 Free Walking Tours / Gratis Loop-toere
Every day of the year, irrespective of the weather, walkers head out for a 90-minute adventure on foot that starts at the Motherland Coffee Company in St. George's Mall, CBD. The walks are ideal for getting a cursory glance of Cape Town's urban beauty and history. No bookings are required for groups of less than ten. Simply pitch up to enroll for one of the several Free Walking Tours with the organizers under the green umbrellas, and be sure to tip.
B.3 Hiking or Strolling in the Gardens / Stap Deur Die Tuine
Cape Town has a great number of gardens and nature reserves, ideal for a gentle stroll, a serious hike, or a leisurely picnic.
Kirstenbosch Nasionale Botaniese Tuin in Kaapstad
("Kirstenbosch National Botanical Garden in Cape Town")
Kirstenbosch National Botanical Garden

Visiting this internationally renowned botanical garden should be a priority—it is simply incomparable! Situated along the eastern side of Table Mountain, Kirstenbosch is a feast of botanical diversity and beauty, ideal for hiking, strolling, and/or picnicking. Expect to pay a conservation fee.
Table Mountain National Park

This location offers a good selection of hiking trails of varying difficulty. One of my personal favorites is Table Mountain itself, starting at Rhodes Memorial to Devil's Peak (not for beginners). Or tackle the easier, 7km (4.3-mile) walk on the Newlands Forest Contour Path loop, also starting at the memorial. Silvermines, in the center of the Peninsular mountain chain, offers different walking experiences, so expect to completely forget you're in a city! Entry to Table Mountain trails is free, but a conservation fee is charged per person at Silvermines.
Fynbos in Kaappunt Natuur Reservaat
("Fynbos in Cape Point Nature Reserve")
Cape Point Nature Reserve

This reserve is also part of the Table Mountain National Park, but it deserves its own mention. It's excellent for longer but smooth hikes or a shorter, steep climb, with killer views of the southeastern corner of the Cape Peninsula. It can get chilly quite quickly here, so bring a sweater. Also, make sure to drive to the reserve via Chapman's Peak and Scarborough for spectacular scenery along the coastline.
Table Mountain Cableway Ride

I planned to mention this excursion under the "Give These A Miss" heading, because the waiting lines for a ride are insanely long, even with a pre-booking. However, the views of the mountain are such a wonderful experience once you're inside the car. Also, at over 3500 feet above sea level, the summit makes for unparalleled, leisurely viewing of the city and surrounding areas. Make sure to book tickets through the correct site online, and use the MyCitibus service to avoid a long walk from the parking lot to the entrance.
C. OTHER
Here are a few more attractions in Cape Town for tourists to enjoy. I've included locations for lovers of history, art, and culture, so let's dive in! 
C. 1 History / Geskiedenis
If you're after the history of the city, don't miss out on the following museums:
District Six: This museum shows the poignant history of a suburb and how apartheid (Literally: "separated-ness") destroyed a once vibrant, multi-racial community. Bring tissues.
Robben Island Prison: This is a well-known Unesco World Heritage site that preserves the history of those who spent time incarcerated in this political prison. Its most famous previous resident was President Nelson Mandela. It tends to be busy during the tourist season, but is historically significant.
Heart of Cape Town Museum: A rather unknown gem, this interactive museum celebrates the day medical history was made: the first heart transplant ever.
Castle of Good Hope: Situated in the CBD, this museum showcases the country's shared heritage and hidden histories. It also houses the South African Military Museum.
Ingang van Robbeneiland Gevangenis
("Entrance to Robben Island Prison")
C.2 Visual Art / Visuele Kuns
As with food and wine, Cape Town is synonymous with the fine arts. Many of the country's great artists have made this their home, and there's plenty going on in the art scene.
Salt River and Woodstock Street Art

Nope, I'm not going to start this list with the famous Zeitz MOCAA that opened its doors recently. First, go feast your eyes on Cape Town's own street gallery in the erstwhile-industrial Salt River, or at Woodstock Exchange in Albert Rd. close by. These cultural assets can be enjoyed for free during a leisurely stroll by yourself, or as part of a guided tour.
Iziko South African National Gallery

For an informative journey through the history of South African and African art, this is your gallery. It's situated in the beautiful Company Gardens in the CBD.
Norval Foundation Art Museum

The Foundation calls itself a "centre for art and cultural expression." Book off a whole morning or afternoon for this trip to the Constantiaberg amphitheater, and view twentieth and twenty-first-century art in the most stunning surroundings.
Zeitz MOCAA – Museum of Contemporary Art Africa

This one is still on my to-do list, but it's worth mentioning. The art museum opened three years ago to great acclaim, as it's one of its kind on the African continent. If online reviews are to be believed, it's the pinnacle of African art. But some of my local artist friends were unimpressed with the museum's offerings; they also thought the entrance fees were exorbitant for what you get. However, this costly non-profit venture is still pioneering, so I'm hoping for a pleasant surprise when I do visit. Some say it's worth going for the architecture alone!
C. 3 Township Tours / Township Toere
'n Township winkel in Suid Afrika
("A township shop in South Africa")
I've given this a heading of its own because it is simply a must-have experience. It's most suitable for the discerning traveler who loves pushing personal boundaries, or for those wanting to add heart and enduring memories to their visit.
Cape Town is a glittery lady who can easily seduce visitors into believing that her identity comprises only glamor, opulence, and natural beauty. However, townships have not left the landscape of South African cities and towns, even after nearly three decades of democracy. A "township" is dictionary-defined as "…a suburb or city of predominantly black occupation, formerly officially designated for black occupation by apartheid legislation." 
However, these communities are vibrant and inspiring in unique and surprising ways. So, for a day, leave your Vuitton bag at the hotel, slip on your most well-worn trainers, and head out on a township tour. Or even spend a night. You will not only support a local entrepreneur, but you'll also get to have a down-to-the-bones experience of the city's sad underbelly. Think meaningful paradigm-shift. 
Note: Never enter a township except in the company of a resident or tour guide, and remain mindful of the tour etiquette and rules. These will be spelled out at the start to ensure that visitors remain sensitive to the needs and boundaries of the residents. The tours are also perfectly safe if the rules are adhered to—we have never had a criminal incident reported on one of these.
Give These A Miss / Vermy Hierdies
Some places are tourist hot-spots and they offer relatively the same experiences as other world cities, or they're over-commercialized. Still not horrible to visit, the following venues might be more suitable to include in a winter trip itinerary.
Victoria Wharf on the V & A Waterfront, Cape Town, South Africa
V & A Waterfront: This is a shopper's heaven, with several designer offerings. Take a champagne-tour out on a boat to escape the bustle, or get on the Cape Wheel for a unique view of the city. But avoid it like a pest if you hate crowds, as it's a very commercialized and insanely busy venue during the tourist season. 
Food Markets: Not every local or visitor will agree with me on this one! And yes, to be fair, the food markets—such as Old Biscuit Mill (where TTK is situated) and Oranjezicht City Farm Market—are atmospheric and fantastic for finding fresh food and goodies. However, as far as market experiences go, they're not super-unique and tend to be constantly congested.
Bo-Kaap District: I'm on the fence about this one too, because I love photographing the erstwhile slave-quarter and quaint houses painted in the Malaysian style. If unique cuisines are an interest of yours, then the Cape Malay food in the restaurants will delight you. It's a very small area and perhaps not everyone's cup of tea. It's perfect for the historian, photographer, and architectural tourist, though.
Century City & Canal Walk Shopping Centres: Although modern and impressive, these enormous shopping malls are very commercialized and always overcrowded.
Simon's Town, Kalk Bay, and Muizenberg: I know, it looks like I'm contradicting myself! As mentioned earlier, Muizenberg has lovely swimming beaches. However, the three suburbs tend to be extremely populated during the tourist season. Out-of-season, you'll find lovely nooks with local produce and bric a brac here, so don't scratch this one off the to-do list completely.
Artscape theatre complex: This location is good for watching performances of the big names in local talent, but somewhat imitative of the European scene. You should instead seek out the smaller venues (many are add-ons to restaurants), especially for comedy or live music performances, if this type of entertainment is what you're after.
BONUS – Emergency Travel Phrases & Vocabulary from AfrikaansPod101!
Of course, I want you to have a brilliant South African experience. So, here is a list of essential travel vocabulary and phrases:
AFRIKAANS
ENGLISH
Goeiedag!
Goeienaand!
Good day!
Good evening!
Totsiens.
Goodbye.
Baie dankie.
Thank you very much.
Ja/nee, dankie.
Yes/no, thank you.
Asseblief.
Please.
Verskoon my.
Excuse me.
Waar is die kleedkamer / toilet, asseblief?
Where is the changing room / toilet, please?
Kaartjie
Ticket
Vervoer
Transport
Verblyf
Accommodation
Polisie
Police
Kan jy my help, asseblief?
Can you help me, please?
Hopefully this article was educational and interesting. Do you have any questions? Let us have them in the comments below! Or even better—share your experiences with us if you've visited Cape Town before.
At AfrikaansPod101.com, we can help you understand Afrikaans easily with our hundreds of recorded videos, audio lessons, and themed vocabulary lists.
Also, before you hop on a plane to the Moederstad, be sure to arm yourself with some words and phrases from our Afrikaans Key Phrase List and the Afrikaans Core 100 Word List. Remember to keep your Afrikaans online dictionary closeby for easy translation!
Supplement your knowledge about the country and the Afrikaners even more with these blog posts:
Enroll now for a free lifetime membership at AfrikaansPod101.com. Hope to see you when you visit Cape Town!
About the author: Christa Davel is a bilingual (Afrikaans and English) freelance writer and journalist, and is currently based in Cape Town.